Whether at home, in the gym or outdoors, new sports accessories help improve your training sessions by injecting better tracking, personalized training and even more interactivity. We tested 5 devices that will revolutionize your sports practice and make you the athlete of the future!
Engo 2 Activelook: Your performance is displayed in augmented reality
Follow your performance live with Engo 2 smart glasses equipped with Activelook technology, specialized in augmented reality. Whether you are a runner, a cyclist or a fan of winter sports, they show superimposed – in the upper right part so as not to obstruct the vision – personalized data such as the route to follow, elevations, speed, distance traveled or frequency cardiac In addition to its comfort and incredible lightness, we really appreciate the Engo 2's compatibility with a very large ecosystem of connected devices. Engo works with accessories like Apple Watch, Garmin counters and watches, Suunto smartwatches or even a simple Android or iOS smartphone. Each compatible accessory will open access to custom screens. The motion detection technology through a sensor located in the center of the glasses, allows you to scroll through the different screens by passing your hand in front of your face. Indispensable
PlayPulse One: rolling fun
While many fitness brands gamify their programs with competitions and badges, Norwegian manufacturer PlayPulse's exercise bike goes one step further by letting you play real video games. With a 24-inch full-HD touchscreen, built-in speaker and gamepad (with ergonomic grip, 8-button joystick, built-in heart rate sensors), dedicated graphics card (2GB VRAM) and a 64GB SSD, the PlayPulse Unha of them is a games console disguised as an exercise bike. Hop on the One and you can play with friends and rivals online while doing HIIT workouts. You can propel your character forward using the integrated controls on the handlebars, or race with the bike's high-precision pedal sensors. Don't feel like playing today? The HD screen lets you watch Netflix or YouTube while you pedal, or select your own workout from the PlayPulse Studio catalog.
Nordictrack Vault – your gym at home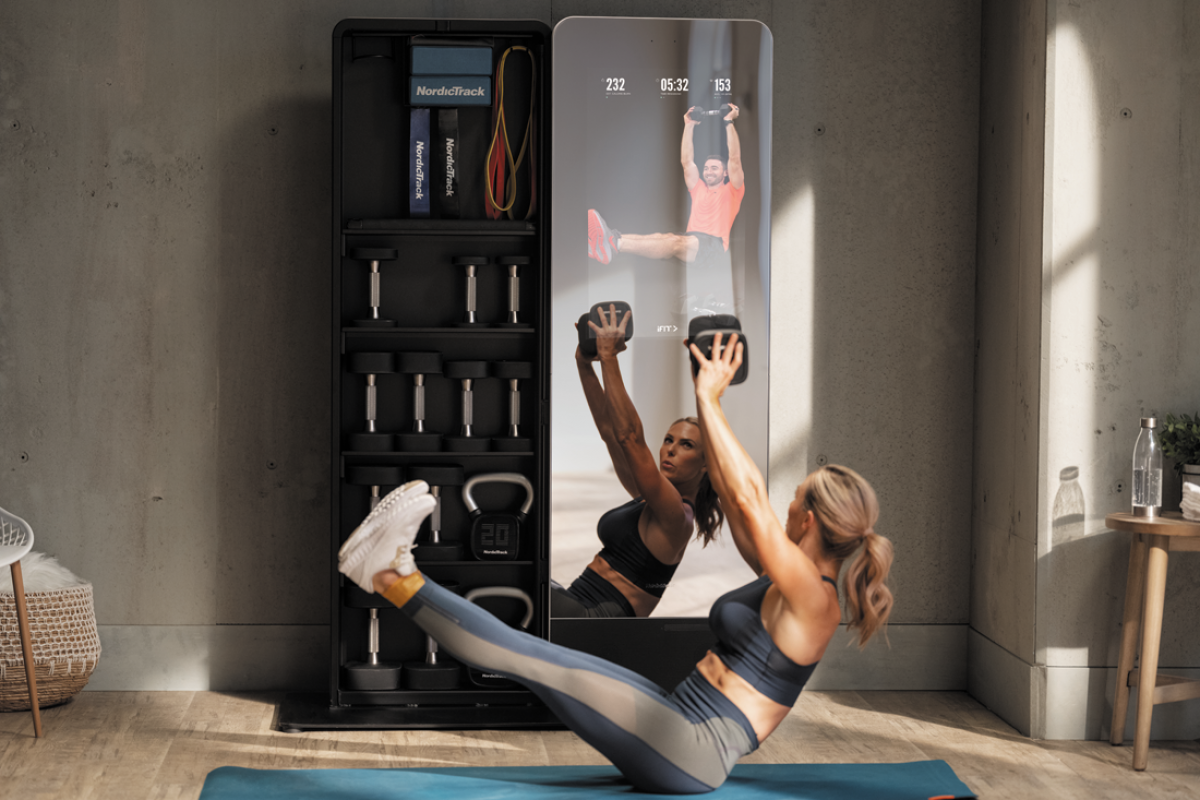 At first glance, the NordicTrack Vault looks like a monolith from Kubrick's famous film "A Space Odyssey". But it's a top-of-the-line smart interactive mirror connected to the iFit workout catalog, the streaming service gyms use to offer live, on-demand fitness classes. With its built-in 32-inch HD touchscreen and reflective technology, the Vault lets you follow the best fitness and gym workouts, yoga, pilates, sculpting and toning, boot camp, cross training and more…but at home, keeping an eye on your form, your posture and your movements. Simply select your workout on the home screen or search for on-demand classes based on intensity, duration, target area, or equipment needed. The on-screen trainer analyzes and corrects your movements live, guides you and shows you your training statistics. Very clever: Behind this sliding mirror hides a storage space to store your dumbbells, dumbbells and other resistance bands. Stylish, interactive and modular, it is without a doubt one of the most complete all-in-one fitness devices out there.